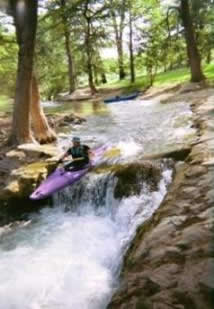 Two Dumpsters of Trash Removed from Medina River
For more information:
Robert Brischetto
210-413-7264
rbrischetto@wireweb.net
Two and a half tons of trash removed from the river on May 7 was evidence of success of the annual Medina River cleanup. There were 212 persons who covered 50 miles of the river in Bandera County by boat, by truck and by foot.
They came from 32 towns in Texas and one from as far as Edmonds, WA, to participate in the sixteenth annual cleanup of the river. Ranging in age between 4 and 88, the workers included 63 boy scouts and their leaders. Troops 346, 145 and 501 were returning again this year from San Antonio and Rio Medina Troop 471 participated for the first time. Most scouts camped May 5 and 6 along the river at the Pioneer River Resort.
With the river running at 124 cubic feet per second, 93 paddlers scoured twelve sections of approximately four miles each. The bulk of the trash was 3,400 pounds of metal for recycling. An estimated 1,600 pounds of trash filled a second dumpster.
Almost all of the trash had been deposited in the river from floods. The most recent flood was May 23 of 2015, when the river exceeded the flood level by 12 feet in downtown Bandera. That was the second most severe flood since 1983, when the US Geological Survey began monitoring river level in Bandera.
After the cleanup, County Commissioner Bobby Harris and his crew served a three-meat barbecue to all participants, while Josh Peek of Boerne and Brandon Nicholson of Bandera entertained with country western music.
Sponsors of this year's cleanup were the Lake Medina Conservation Society, Bandera County Commissioners Court, City of Bandera, Bandera Business Association, Bandera County River Authority and Groundwater District, Chuck and Janet Andres, Johnny Boyle, Jr. of Bandera Wine and Spirits, and Lowe's Market of Bandera.
The annual river cleanup is conducted as a service to the Bandera community by the Medina River Protection Fund, a 501(c)(3) public charity. It was established as a perpetual fund to engage residents in all parts of the county in a community-wide effort to preserve and protect the river. Bobby Harris is President and Don Sloan is treasurer. Tax-deductible donations may be made out to the Medina River Protection Fund and sent to PO Box 417, Lakehills, TX 78063.
Look for photos of the cleanup on our Pictures page.

If you would like to support this effort with a tax deductible donation, please make your check payable to "Medina River Protection Fund" and mail to:
The Medina River Protection Fund
P.O. Box 417
Lakehills, Texas 78063
Thank you for your participation and your donation. With your help, we can ensure a future for the Medina River amid the growth and development that is taking place in Bandera County.
---
Find out how the Medina River is flowing at the dam in Bandera: USGS Real-Time Water Data for Medina River Website: http://waterdata.usgs.gov/
usa/nwis/uv?site_no=08178880
Find out how the Medina River is flowing at Moffet Park in Medina, TX: http://waterdata.usgs.gov/tx/nwis/uv?
cb_all_00060_00065_00045=on&cb_00060=on&cb_00065=on&cb_00045=on&
format=gif_default&period=&begin_date=2014-02-28
&end_date=2014-03-07&site_no=0817887350